To live and die at Area 51, Las Vegas Weekly 4-19-25
"The museum" still holds many secrets
By Joe Schoenmann (schoenmann@vegas.com)
CIA operative Robert Wilson's red-bound passport gave him "diplomatic immunity" overseas.
For 15 years, Robert G. Wilson lived a conspiracist's dream.
Beginning in 1964, the CIA spy's weekly routine began with a drive from his Las Vegas home to Area 51, the ultra top-secret military compound 90 miles northwest of Las Vegas.
It was a job that could make a family feel secure--he went to work on Sunday, he returned Friday. But, unlike dads who dealt blackjack or worked at the 7-Eleven, Wilson's job was just a bit more intense. And his job was something that the kids, even if they knew about it, could never speak of at show-and-tell.
Wilson had the unusual job of flying shotgun in the supersonic SR-71 and taking reconnaissance photos, on occasion, hand-delivering messages in handcuffed brief cases to "spook" commanders in Japan.
As his passport shows, Wilson's job took him all over Southeast Asia during some of the most turbulent times of the last century. "The X-Files" aficionados will also note his striking resemblance to the "Smoking Man," right down to the slim black tie and wry, no-nonsense look. Wilson was also a chain smoker.
And all of it began and ended very quietly every week at Area 51, a place so secret and twisted, not even our nation's congresspeople get a look at it.
At age 52 in 1989, Wilson died of a heart attack. By that time, he'd retired from the CIA and had taken a job at the Clark County jail. But just before his death, Wilson was abruptly reminded of his old job when Las Vegan Bob Lazar made headlines with his story about alien craft at Area 51. The story prompted Steve Wilson, Robert's son, to ask a relatively simple question: Was there any truth to Lazar's story?
With hardly a pause, his dad answered "no."
"Like I said, he was a company man," says Steve Wilson, now 33 with a family of his own and very respectful of his father's work. "That was his answer for everything. It was all to the United States, for the United States. The government was his passion. He was a company man to the core."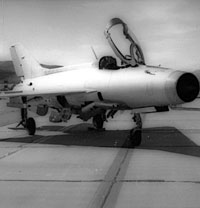 This jet, possibly a variation of the Russian MIG, flew out of Area 51, circa 1960. The photo came from Wilson's belongings.

Which is to say, Wilson would have had no problem taking a secret to the grave. Secrets were his job, even in death.

Of course, maybe he had no secrets to tell. Maybe alien spacecraft--which conspiracists believe are being "back-engineered" at Area 51 from the remains of crashed flying saucers--don't exist.

Or, if they do exist, maybe Wilson was holding back to save his son. Because, if the story Wendelle Stevens told is true, knowing too much about Area 51 can get you killed.

Wendelle Stevens, retired from the Army Air Corps, is now director of the International UFO Congress; and it was there in early March that he told the story of a purported Area 51 sentry who visited him in 1991. Stevens said he held onto the story for 10 years, because he feared the sentry was part of a plot to discredit him.

Then he read a strikingly similar story in an Italian magazine last year that--as told by a high-ranking U.S. military man on his deathbed--made him more of a believer.

The sentry called himself Connor O'Ryan, code-named "Ghostwalker," and he phoned Stevens' home in Tucson, Ariz. in October 1991 with an incredible story. O'Ryan said he was in the Army's elite Delta Force Team 6, which was responsible for security inside Area 51. And he was in danger, he said, because of what he had done at the base. He claimed to have smuggled 52 pictures out, made six copies, and planned to release them to the press. O'Ryan's motivation for betrayal was that base doctors recently diagnosed him with Hodgkins Disease, giving him only a few weeks to live. And he concluded that doctors purposely infected him with the disease after learning, during his routine hypnotic examinations, that he had taken the photos.

"He came to me in a vengeful state," Stevens said. "His revenge was sincere."

He didn't carry the pictures with him, however, for fear of being picked up while traveling from Los Angeles to Tucson. Instead, he made six copies and mailed or had them stored in various places, including locker #424 at the Greyhound bus terminal on Main Street, across the street from the Plaza hotel-casino. O'Ryan described and sketched what he had seen at Area 51--which he called "The Museum" because it was no longer the hub of secret aircraft research--as Stevens videotaped.

In one drawing, O'Ryan depicted an underground hangar where seven styles of flying saucers were stored. In another, he drew a hallway that was empty but for a few large clear containers, each holding fluid and the preserved body of a large-eyed alien.

Well, Stevens' story ended abruptly. The photos that O'Ryan mailed to Stevens never arrived. And the two received written messages that promised money for the photos--or death for withholding them--that were signed with Delta Force symbols. O'Ryan--a name Stevens knew was fake--drove off to do something and never returned. And when Stevens took locker key #424 to the Greyhound bus terminal, he was told that the entire bank of lockers had recently been removed.

Stevens never heard from O'Ryan again.

And another Area 51 conspiracy story was born.